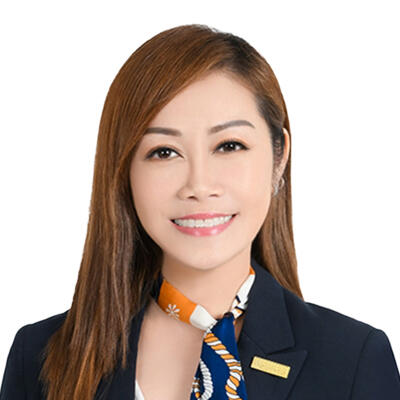 JES NG
CEA No.: R015988G
Associate Division Director
JES NG
CEA No.: R015988G
Associate Division Director
Hello, my name is JES NG, a real estate consultant at Huttons Asia Pte Ltd with years of experience.
My areas of expertise include condominiums, HDB, landed properties as well as commercial and office space.
I understand that each of my clients has different needs and requirements and I treat everyone with the highest degree of service and professionalism. My only purpose is to deliver successful results!
Jes was not only professional and knowledgeable , she always put her client interest in the first place. Very glad to engage her as my agent and sold my unit ( within 2 weeks)which I believed the highest price transaction at that time! Definitely will recommend her to my relatives or friends whom need property advice or assistance. Thanks sis !!!
JACK LOH
04/10/2023
Jes had anticipated her professionalism and led us hassle free in the selling & buying process despite of our stringent requirement. Her dedication as an agent is definite recognise and would recommend fellow friends and relatives to engage her services in future. Well done 👏👏👏
A***
28/09/2023
Jes is not only helpful, she is also veey resourceful. She managed to convince tenant to start early due to non-resident quota and we are very glad and happy with her service.
C***
25/09/2023
一First i saw her very friendly and helpful, also very patient.
WEE CHENG GUAT
15/09/2023
Jes is professional and detailed. Willing to go the extra mile of making my unit looks even better, beautify and revamp some areas by diy herself. To my surprise, it is sold at the highest price in the area in just one viewing! 👍🏻👍🏻 Appreciated her hard work and will surely recommend her to my other friends and relatives whom have any property enquiries. KUDOS to Jes!
JACQUELINE SEETOH
31/08/2023