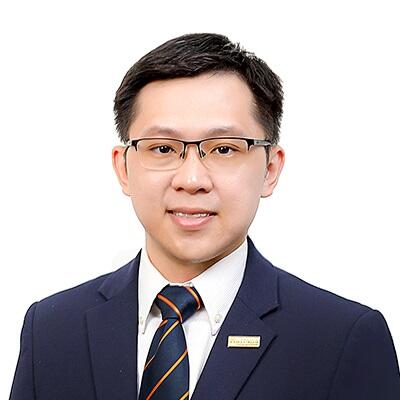 WONG JUN JIE
CEA No.: R048626H
Associate Senior Division Director
WONG JUN JIE
CEA No.: R048626H
Associate Senior Division Director
Hello, my name is WONG JUN JIE, a real estate consultant at Huttons Asia Pte Ltd with years of experience.
My areas of expertise include condominiums, HDB, landed properties as well as commercial and office space.
I understand that each of my clients has different needs and requirements and I treat everyone with the highest degree of service and professionalism. My only purpose is to deliver successful results!
JJ was recommended to me by a friend. My experience with him as my agent has been great. Firstly, he is extremely responsive. Within a week of initial contact, we already met to discuss the sale and he arranged for a videographer to take the required footage. Due to my circumstance, there was a major delay in the sale. He patiently waited and would periodically check in. Once I could sell the flat, everything quickly happened and my flat sold higher than expected within a day of viewing. He also helped me settle some admin work as I could not take off on a weekday. I highly recommend him. In fact, I already recommended him to my good friend. Thank you JJ 🙂
C***A
22/11/2023
Never regretted meeting JJ as he is a one stop shop, reliable and trustworthy person. I trust he will deliver full service for the rest of my contacts and that they will be very satisfied with his experience and services. The entire journey from planning to purchase and getting the keys was extremely smooth and it is thanks to JJ's expertise. We basically bought his experience and it is worth it. All the best to JJ and look forward for future consultations and financial planning for future properties.
MORGANE BEN OMRAN (LEOW)
27/09/2023
JJ is reliable and knowledgeable in all aspects of his services. I am also impressed with his responsiveness and pro-activeness.
C H TAN
06/09/2023
JUN JIE WAS RECOMMENDED BY A FRIEND OF MINE WHO ENGAGED HIM FOR THE RENTAL OF HER EA. I GOT IN TOUCH WITH HIM FOR THE RENTAL OF MY FLAT IN SEMBAWANG BACK IN 2019. I FOUND HIM PROFESSIONAL IN HIS CONDUCT AND VERY KNOWLEDGEABLE OF THE MARKET SITUATION. HENCE, I DECIDED TO ENGAGE HIM AGAIN FOR THE SALE OF MY LATE FATHER'S FLAT AT WHAMPOA. THE RENTAL AGREEMENT FOR MY FLAT IN SEMBAWANG EXPIRES END OF OCTOBER AND HE HAS ALREADY SECURED A GOOD PROFILE TENANT FOR ME. THAT ENSURES THERE IS NO LAPSE IN MY RENTAL INCOME. I WOULD RECOMMEND HIM TO MY FRIENDS.
JOSEPHINE ANG
05/09/2023
JJ was incredibly professional and attentive throughout our property journey. He was attentive and worked hard to accommodate to what I was looking for. His expertise and dedication made the process seamless, and I highly recommend him to anyone looking for top-tier property assistance.
RIZ
04/09/2023
| Award Year | Award Month | Award Name | Award Position |
| --- | --- | --- | --- |
| 2023 | August | Top Project (International) | 5th |
| 2023 | August | Top 100 Producers | 42nd |
| 2023 | June | Top 100 Producers | 99th |
| 2022 | March | Top Resale/Rental | 21st |
| 2022 | March | Top 100 Producers | 98th |
| 2021 | December | Top Resale/Rental | 26th |
| 2021 | November | Top Resale/Rental | 25th |