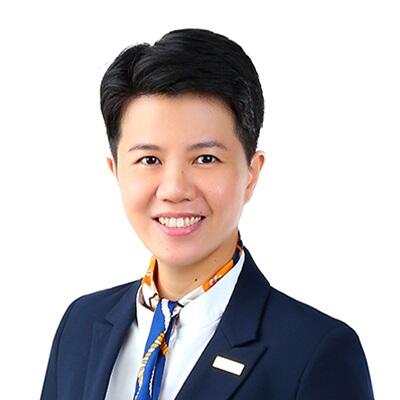 CHARMAINE CHEAH
CEA No.: R063729J
Associate Marketing Manager
CHARMAINE CHEAH
CEA No.: R063729J
Associate Marketing Manager
Hello, my name is CHARMAINE CHEAH, a real estate consultant at Huttons Asia Pte Ltd with years of experience.
My areas of expertise include condominiums, HDB, landed properties as well as commercial and office space.
I understand that each of my clients has different needs and requirements and I treat everyone with the highest degree of service and professionalism. My only purpose is to deliver successful results!
Charmaine is a very detailed and meticulous agent. She has patiently explain the resale process with us and also ensure that each step of the process is well followed through. This makes our property selling experience a very smooth and enjoyable one. Would highly recommend her to other seller / buyer.
K***N
17/10/2023
Charmaine is very helpful and giving good advise to maximize the rental value of our house with full dedication. She is someone you can rely on.
S***U
28/09/2023
Charmine is very diligent and go all the way to help to the client.
ANG WEE LIANG
25/07/2023
很高兴在贵房产公司的网站上看到为我们客户开放评论区,我很愿意来表达对我的经纪人Charmaine的感谢和大力推荐。Charmaine是本地新加坡人,有很高的信誉度和诚信度,我可以把房子的所有资料、我个人的经济情况和买房具体目的都统统交给她。她在短短1个月的时间内就帮我独立处理房屋买卖的各种政府手续、买卖双方的谈判和完整的卖房交易。在交易完成后,还会跟我解释之前我在买房子或拥有房产时遇到的一些可以调整的地方,以后避免违反新加坡的相关法律。(新加坡的房产交易和居住管理是相当严格的,比如:出租登记、人员登记、人数限制、亲属居住等等) 总得来说,Charmaine值得我去全情推荐给大家,她的专长是:1.非常值得信赖;2.充分讨论客户购房的各种目标;3.精准计算各种政府费用;4.配合客户需求,可独立完成交易过程中的各种繁杂事宜;5.对交易时或入住后可能出现的问题,提供附加提醒。以上这些对于我们习惯于在中国买房后无特别限制的中国客户是非常非常重要和实用的。 在此,再次感谢Charmaine对我的帮助,让我很快很轻松地在没有见过一次买家的情况下就完美完成了卖房交易。 谢谢 孙俊影 molysun@gmail.com
SUN JUNYING
01/03/2023
Charmaine is personable and engaging, which made the experience seamless and assuring. She anticipates issues well, making the process quick and precise. She communicates effectively and in detail at each milestone and remained in contact beyond the transaction to assist in any needs of all parties.
YEONG JIN YUAN
29/01/2023