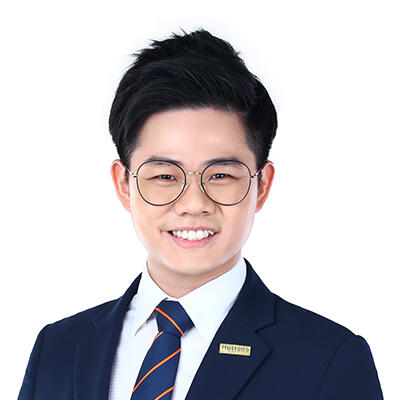 DYLAN TEH
CEA No.: R068209E
Associate Assistant Marketing Manager
DYLAN TEH
CEA No.: R068209E
Associate Assistant Marketing Manager
Hello, my name is DYLAN TEH, a real estate consultant at Huttons Asia Pte Ltd with years of experience.
My areas of expertise include condominiums, HDB, landed properties as well as commercial and office space.
I understand that each of my clients has different needs and requirements and I treat everyone with the highest degree of service and professionalism. My only purpose is to deliver successful results!
It was a challenging experience in our search for a property initially, and that's when we were recommended to approach Dylan who played a significance part to make this journey a lot more pleasant. Dylan made a substantial difference in our property search with his professional expertise, with him going above and beyond to find a property that perfectly aligned with our requirements. His reputation as an experienced negotiator exceeded our expectations and having him as our advisor was invaluable with his reliable market insights, meticulous approach and dedication. We are really grateful to have met him and wholeheartedly recommend Dylan to anyone in search of real estate properties in Singapore. His professionalism and local knowledge have made a significant impact on us.
JAYSON
27/09/2023
Working with Dylan as my real estate agent was an absolute pleasure. His expertise, dedication, and professionalism made the entire process seamless and stress-free. Since the start of our search, Dylan exhibited a deep understanding of Singapore's real estate market and took the time to understand my specific needs and preferences, ensuring that every property he recommended was a perfect fit for me. What truly sets him apart is his commitment to his clients. He is always available to answer my questions and address any concerns which makes me feel the value and support throughout the journey. I truly believe I got the best deal possible, thanks to his kind guidance. In the competitive environment in Singapore, having Dylan as my agent gave me a significant advantage with his market knowledge, attention to detail, and dedication to achieving the best outcomes for his clients. I highly recommend Dylan in every sense and I am grateful for the exceptional service that he provided. Thank you to Dylan for your sincerity and sound advise in the entire journey. Will definitely seek your professionalism in the future!
RICHARD
27/09/2023
YISHUN INDUSTRIAL STREET 1